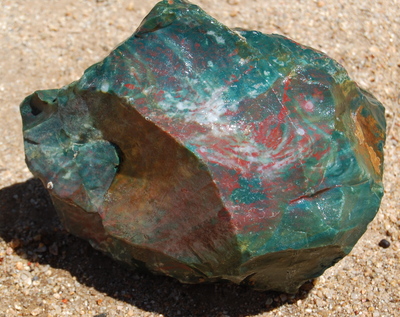 The technical term for this stone is heliotrope. It comes from India and has a long standing reputation for being full of magical properties such as preserving health and youth. It hasn't made me any younger, but my health is rather good, so maybe having the stuff around helps. Then again, maybe it's just countering the carcinogenic chrysotile (asbestos) specimens that I keep for show-n-tell. Apart from the mystical powers, it is a beautiful stone that is very hard and takes a mirror-like polish.
There are several varieties of material called bloodstone, but most of it is a dark green jasper with inclusions of red hematite that appear to be little seeps of blood oozing out of the stone.
Check out this link for more information about Bloodstone.