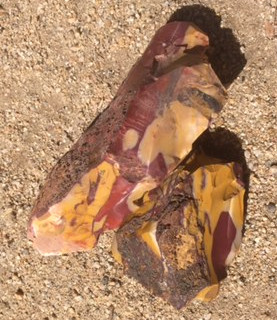 This distinctive jasper comes from the Australian outback. The name 'mooka' comes from an aboriginal word meaning running water. The striking colors are various hues of red, yellow, purple, and white with very distinctive borders. It is very hard and takes a porcelain finish which makes it a lapidary dream.
I read a website that reports one metaphysical property of Mookaite is to slow aging. However, my own observation does not confirm this. I bought a small piece of Mookaite at a gem show about five years ago... today I'm older, slower, achy-er (is that a word?) and time is going way too fast. I'd hate to think how old I'd be feeling without Mookaite.
I have acquired several pieces over the years from different sources. I'm always keeping an eyeball on the lookout for good deals on Mookaite at gem/mineral shows and garage sales. Yup, I actually bought a piece of Mook at a garage sale. I think the guy was unloading an inherited rock collection. I love finding those deals!
Sometimes I wonder how large quantities of foreign stone find their way to the United States. I can only imagine ocean faring freight ships loaded with crates of the stuff.