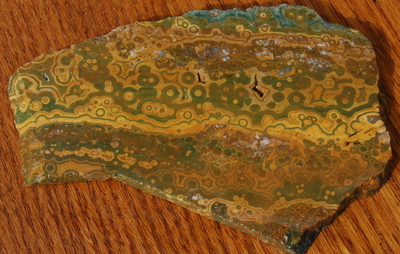 Ocean Jasper is another one of those gemstones that gets a high price due to reported scarcity. I've heard from more than one rockhound that the Madagascar Ocean Jasper deposit has been entirely exhausted. Although, the more I play in this lapidary sandbox, the less I believe what I'm told. I hear that it's gone, but yet at every gem & mineral show, there are multiple vendors selling tubs of the stuff at high dollars. The supply and demand ratios I learned about in Econ 101 don't seem to jive when it comes to semi-precious gemstones.
Where was I? .. Oh ya, Ocean Jasper is an orbicular jasper. It comes in many colors and patterns but the common stuff is green matrix with little yellow orbs of varying size. I've bought a few slabs from the scratch-n-dent bins as that's all I could afford.
Here is a very good web page that will tell you all about Ocean Jasper, what it is, and where it's mined.