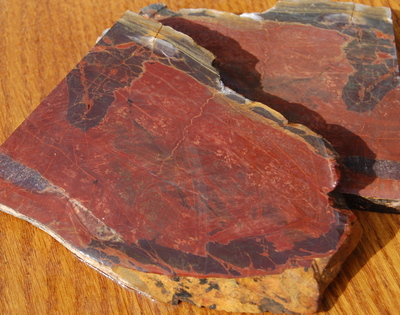 As every bowler knows, life is full of strikes and gutters. Rockhounds experience a different sort of gamble... what's inside? It's not a big gamble when you're trucking stuff home from the wilds, but when you're buying $/pound rough at a gem & mineral show, sometimes there's a gamble.
I found a perfect size slabber in the Duck Creek barrels at the Aussie booth. Problem was that the outside was dirty and not too interesting. I decided to take the gamble and took it home.
It cut into slabs nicely, but there wasn't any interesting color or patterns on the inside. I tried to cab a piece but it was very soft and didn't take much of a polish. It was a dud by my standards.
Anyway, here's a link if you want to read more about Duck Creek Jasper.