Intarsia is just a fancy word that means different rocks glued together. It doesn't sound too difficult, but as with most things I insist on learning the hard way, it's trickier than it looks. My intarsia experience is still at the 'Fisher-Price' level, meaning big shapes and colors. I hope to someday be able to do the intricate zuni, or cosmic patterns that are done by the masters.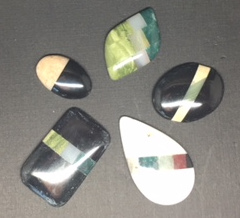 A few things I've learned:
use stones of similar hardness
cut stones and grind to 90 degree angles on a 180 grit lap
joints must be flush
use only epoxy 330
vibrantly colored rocks are desired (and hard to find)
re-con is good accent material, and is expensive
I've got a lot more to learn.