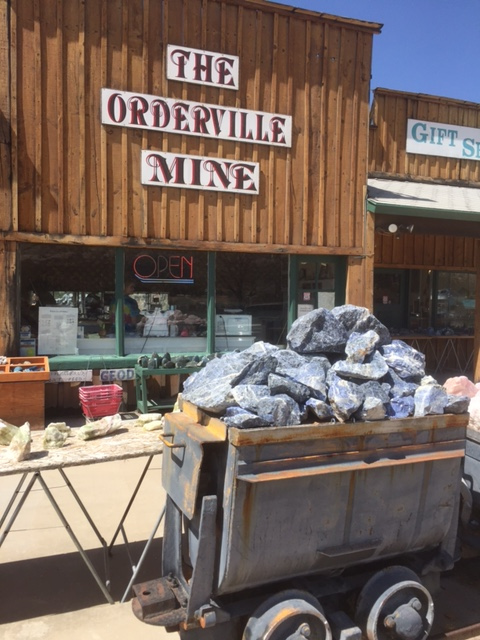 Southern Utah is one of the most unique and amazing places in the northern hemisphere. From the western border all the way to the eastern border are geologic wonders that cannot be fully appreciated in one lifetime. If you ever have the opportunity to visit, I highly recommend spending as much time as you can exploring the national parks from Zion to the Grand Staircase to Monument Valley... and every nook and slot canyon in between.
Along your trek you will likely drive part of highway 89 that runs from Kanab on the south and splits Utah right up the middle all the way to Levan. Unlike modern, split lane freeways that bypass the local cultures, this two lane highway weaves through a handful of sleepy towns which date back to early settlements of the region. Many of these towns are not even a mile from end to end, and don't even employ a traffic light, they only ask that you slow down as you pass through.
One such 'slowdown' along highway 89 is Orderville Utah, named after a social experiment that early mormon settlers conducted. Mormons claim to understand a pure form of societal living where everyone labors according to their abilities, submitting the fruits of their labors to the local bishops storehouse who then distributes the centralized wealth according to the individual needs of each citizen. Communism you say? Even contemporary mormons will stand by the 'United Order' (that's what they call it) as the most pure form of society as ordained by God, but can only be practiced if populated by purely righteous people. They actually tried to live this type of society back in the 1800's, and it is considered the longest amount of time that a commune survived in the US. Sixteen years, if I recall correctly.
Orderville is kinda ironic when you consider the general political bent of the locals. They detest the federal 'gubmint' meddling with what they got, yet have no problem shoveling funds to their own authoritarian theocracy. Weird.
Anyway, I didn't come here to rant... just observe.
What's interesting about Orderville is that while there's only one gas station (closed most of the time), yet there are four, count 'em FOUR, 4 (more than 3), rock shops in a town that can be driven through in 30 seconds. That's right, it's a vortex of lithic commerce! There's four times as many rock shops in Orderville, Utah as there is in Phoenix, Arizona, which is home to millions of people. The shops aren't always all open all hours, but last time I drove through, they were all still in operation. The kids were conditioned from a young age to understand that dad needed a pitstop in Orderville. I'm proud to say that I've spent money at each of them over the years.
There's Joes Rock shop at the north end of town. Joe's the one who owns the septarian nodule claim just a few miles down the highway. I've read that he'll let people go scrounge his claim, but he's never offered me that privilege.
At the other end of town is the Orderville Mining Co. (see picture). This is probably the most commercially viable, and probably the priciest of the bunch. The last time through I spent nearly an entire Franklin on just four rocks. (Hey, it's an affliction folks, have some pity.)
In the middle of Joes and OMC are two shops across the road from each other. On the south side is the Flintstones shop in a building which looks like a hollowed out mud clod. Directly across the street is a non-descript rock store.
Crime must be minimal in Orderville as all the rock shops leave their inventory in yard piles outside of their stores. Perhaps it's my big city perspective, but with prices exceeding $10/lb. for stuff only being protected by low, split cedar fencing, that pilfering might be a problem. Then again, it's idiots like me who allow merchants to charge what they do. Everyone else just sees piles of rocks as they whiz by in their motor vehicles. If only I lacked morals.
So, if you like rocks and you find yourself in southwest Utah, keep an eyeball peeled for Orderville. You'll find rocks from all over the planet that have somehow found an outlet in this small ville.